If you are buying or selling a home, or even if you aren't, consumers today are bombarded with real estate "branding."  The truth is, most people are just plain confused, and it's not surprising.  In every neighborhood you see agent signs, not advertising properties, but with a goal of leaving an advertising "impression" for people driving by.  You go to the grocery store and you find agent advertising on shopping carts and order dividers.  You get your mail and find misleading postcards touting "we're the biggest, we're the best, and we've sold more houses than anyone else."  And if that's not bad enough, now you may find agents from one company actually knocking on your door unannounced, and calling you even if you are on the "do not call" list, to see if you are thinking of selling.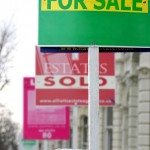 The truth is, buying or selling real estate is one of the biggest financial decisions you will ever make. Your decision impacts not only your monthly cash flow, but your taxes and long-term financial stability.  Why would anyone choose to trust a street sign, grocery cart ad, or someone knocking on your door unannounced and uninvited?
The reality is the above methodology actually works.  Consumers are confused, so they often choose an agent from a local ad, especially sellers who have had no experience in selling a property for many years.  "If I see their signs everywhere and just got their postcard, they must be good, right?"
The majority of buyers begin their home search online.  This is great way to define where you want to be and what kind of home you want.  O.K.  You found a great house online.  Now you need financing and someone to help you navigate the buying process to a positive conclusion. It's easy.  Just go to an "open house," and if you really like it, the listing agent will write the offer for you. You can get a mortgage loan from your financial institution, or an online lender, they will give you the best rate, right? Not so fast.  The listing agent represents the seller, who wants the highest possible price.  They can, with "full written disclosure" write the offer for you, but then you have no one representing your interests.
It's all very confusing to most consumers.  So how do you find an agent you can trust to represent only your interests?
1.  Do your homework. One of the best ways to find an agent is "word of mouth" from family, friends and colleagues who have had positive and successful experiences.   Find an agent who will work only for you and not represent both the buyer and the seller in the same transaction. Virginia is one of the few states where it is still legal for an agent to represent both parties.
2.  Buyers – Shop for the best rates.  Don't rely on lenders you already have a relationship with, or online lenders to give you the best rates.  Many will offer "cash back" or other incentives, but you are paying for them with higher rates and less monthly cash flow.  Successful buyer-agents will know the good lenders and how to get you the best rate.
3.  Sellers – Find an agent who has the knowledge and experience to advise you on preparing your house for sale with the minimum amount of cash, and who has staging and marketing expertise.  Find an agent who understands the local market and how to help you establish a realistic market price based on the most recent facts. Find an Agent who will tell you what you need to know to get your house sold, not "what you want to hear just to get you to sign a listing agreement."