Have you noticed that in the close-in counties in Northern Virginia that lot sizes on houses are getting smaller and smaller? Especially in new house communities. That's because there is little or no land left to build on in the "easy-commuting" locations.  Much of the new building for single family homes is called "in-fill" development.  Small bits of land left over from when older communities were built, or small pieces of land builders have acquired by buying a few older homes side-by-side.
So what defines a "great" backyard? As with most homes, value is in the eye of the beholder depending on their desired lifestyle. Some buyers, especially those who now want to live in urban areas with excellent "walk-ability" want no outdoor maintenance and are happy with little or no outdoor space.   For buyers looking for a great lot, here's what it typically means: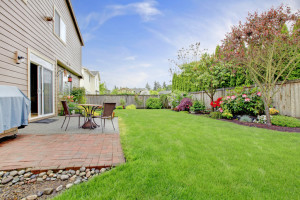 Away from high-traffic roads and noise
A view that looks at green space rather than directly at other homes
A level area for outdoor activities, especially for families with children who play outside
Fenced space to keep children and pets safe
Space to create outdoor living areas – decks, screened porches, patios, gardens and fire pits, etc.
Size is not as important as PRIVACY
So if you are buying or selling, how does a "great" backyard impact sale price? For new homes, builders charge "lot premiums" for the "best" lots – as much as 5%-7% of the sale price.  In established neighborhoods a great lot can mean paying between 5%-8% more than other homes in the community with less attractive lots.  Demand for great lots is always higher, and homeowners tend to stay in these homes longer, so this limited inventory always comes at a premium price.  Great news for sellers.  Buyers, if your goal is a great backyard – be ready, and be decisive!