When Integrity Real Estate Group was founded, we committed to a fundamental core value of giving back to the communities where we work and live.  We elected not to follow the standard industry practice of charging clients a per-transaction administrative fee. In addition, our agents have elected to contribute a portion of their commissions for each settled real estate transaction to a pool of funds designated for contribution to local nonprofit organizations.  At the end of each year we donate the funds to grass roots charities that are making a difference in the lives of others.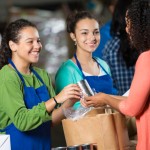 "So what you say, big deal, they donate to charity. So do a lot of people."  As an organization we don't reap magnificent rewards from giving back.  The amounts we donate aren't even a drop in the bucket compared to what is needed in Northern Virginia. Giving back means you give, and you will probably never see tangible results or even recognition for your efforts. The only reward is in knowing that the end of the day you just might have made a difference in someone's life.  That's a good way to end the day, even if it might have been a long, frustrating one.
We choose to donate to "grass-roots" charities because many non-profit organizations have become so large that only a very small portion of donated funds actually go to supporting their missions.  We choose to contribute to those who are focused solely on the recipients of their services where the most good can be accomplished.
In 2015 contributions were made by our agents to the following 501C-3 non-profit organizations:
The ARC of GPW:  arcgpw.org
Boulder Crest Retreat: www.bouldercrestretreat.org
Gabriel Homes, Inc.:  gabrielhomes.org
Links to Freedom Foundation: L2F@Linkstofreedom.org
Lorton Community Action Center:  lortonaction.org
MarineParents.com, Inc.:  marineparents.com
Mount Vernon Estate Preservation Initiative:  www.mountvernon.org
New Hope Housing, Inc.:  newhopehousing.org
Our Heroes, Inc.:  horseplayfarms.org
The Koinonia Foundation, Inc.:  koinoniacares.org
We are honored and proud to contribute to these organizations who are so dedicated to making a difference in the lives of others.  Thanks to them for doing what they do – they are making a difference, we hope we are too.